The Rock-Mite
Steve Yates - AA5TB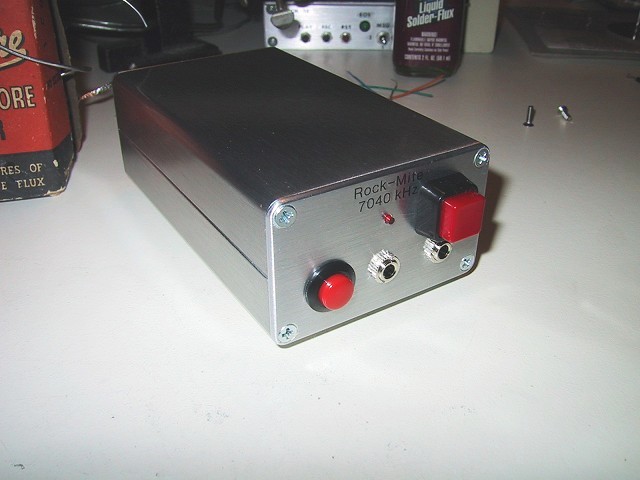 E-mail
Last Update: January 27, 2010
The Rock-Mite is a 40m CW kit offered by Small Wonder Labs . It features built-in keyer, direct conversion receiver with a crystal RF band pass filter, 500 milliwatts of power, and switchable frequency offsets to work around QRM. The high quality circuit card and all broad components cost only $25.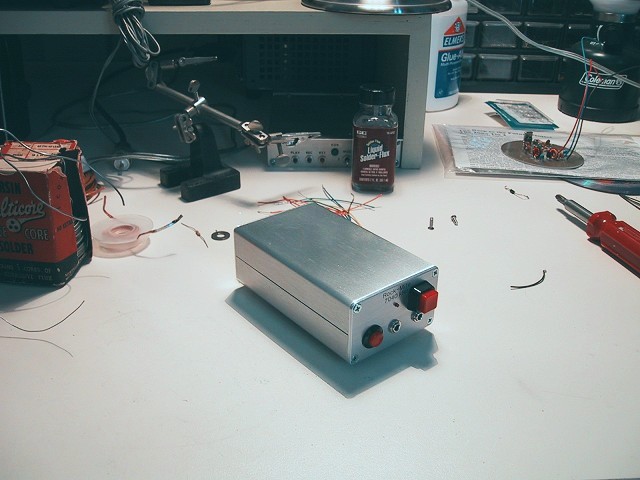 Complete View
It only took me about an hour and a half to build up the board and a day to prepare my enclosure. In my case I purchased a very nice clam shell aluminum enclosure from Fry's Electronics for under $11. I drilled out all of the necessary holes and installed switches and connectors that I happened to have in my junk box. Please excuse the big, ugly power switch on the front panel. Like I said, I used what I had on hand.
The rig is a pleasure to operate and I've already made several contacts with it. My best distance so far is about 1600 miles (2575 km). At 12 volts DC input I get 470 mw output. When using the internal 9v battery I get about 250 mw output. It is hard to see in the photo but I mount the 9v battery underneath the main PCB. The toggle switch on the rear panel switches between internal or external power. The receiver is very hot with very crisp audio. The only real selectivity is due to the crystal filter in the front-end of the receiver which is the best place to put a filter. Only simple, single frequency receivers such as this one lend themselves to such a good filter at the RF front-end.
Below is a 30 second recording of what the Rock-Mite hears. Every 7 to 8 seconds I switched back and forth between one offset and the other so that you can hear the effect. The file is rather large since I recorded it at 11025 sample rate and 16 bits so that the full fidelity of the audio can be heard. The frequency stability of this rig is excellent so the "warble" that you may notice is that of the received station.
Rock-Mite Audio (650 kB) 7040 kHz August 21, 2002 0245 UTC
You may wonder about the usefulness of a single frequency transceiver. Well, since it is on the 40m QRP calling frequency of 7040 kHz (ed., has been changed to 7030 kHz) you can always find several other QRP stations to work. Also, the frequency stability is excellent which makes this a great rig for camping or hiking trips.
I brought my Rock-Mite 40 out for the QRP Afield Contest on September 17, 2005. 40m activity was low but I did work everyone that I heard in the contest, two people ;-) However, one of those QSO's was with another Rock-Mite in Dripping Springs, Texas, W5ESE. I have a recording below of W5ESE calling CQ with his Rock-Mite 40 at 500 mW. It will be clear after you listen to the recording that solid communications can easily be had with milliwatt power levels when propagation conditions allow it. Given that the distance from W5ESE to me was about 150 miles we were using the NVIS mode of communications (straight up and back down). I was using my Rock-Mite at 470 mW and a horizontal end fed half wave antenna at about 4 to 8 feet high and my little coupler.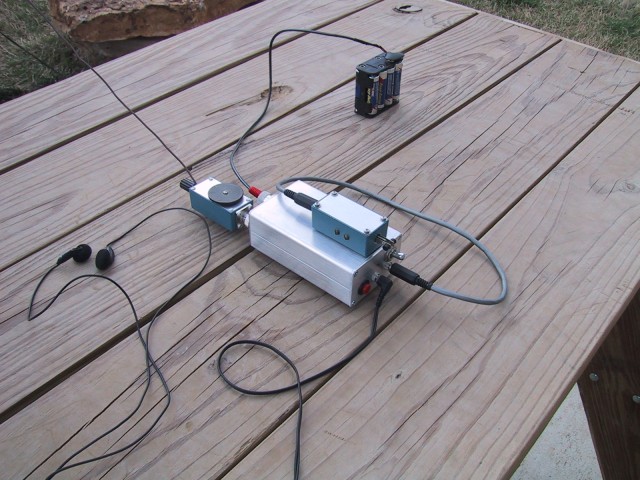 Rock-Mite in Use
W5ESE (431 kB) 7040 kHz September 17, 2005 2245 UTC
Below are some more photos of my rig. If you would like to have some fun with a rig that you can put together in an evening then I would highly recommend this inexpensive rig.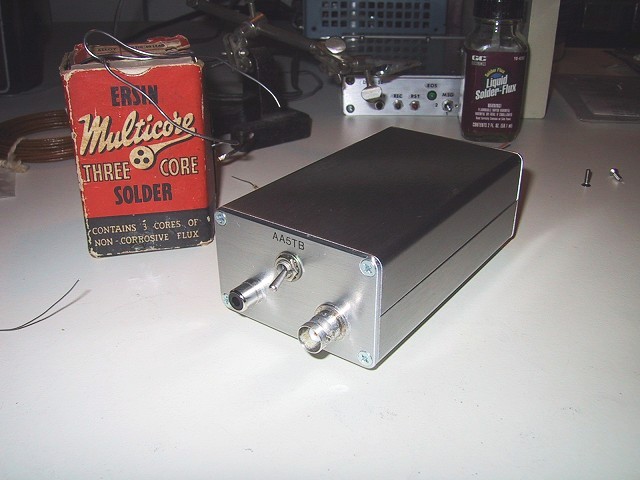 Rear View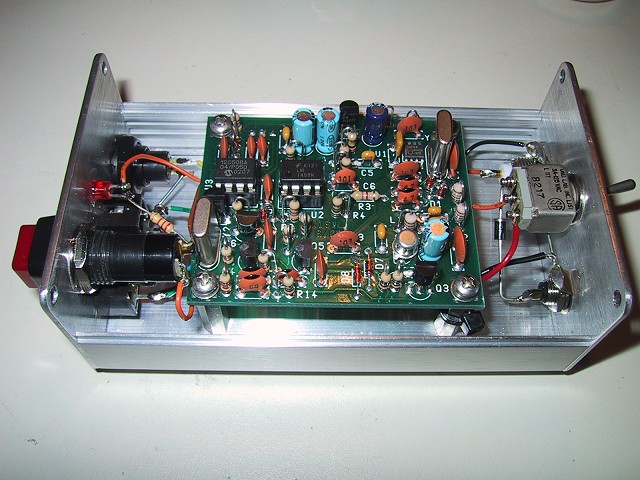 Inside View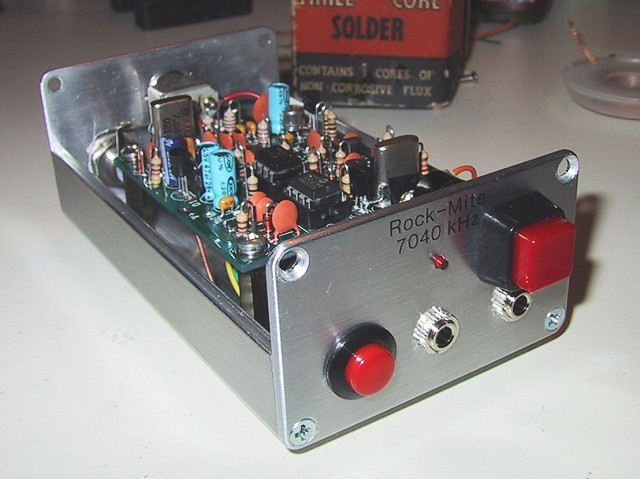 Another Inside View
---
Related Links