PRC-38S
My Combat Ready 30 Meter CW Rig
Steve Yates - AA5TB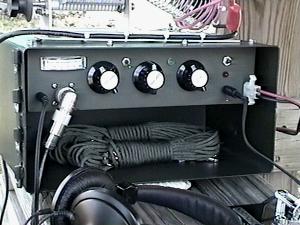 E-mail
Last Update: January 5, 2010
This is one of my favorite QRP rigs. It is designed for 30 meters and has a power output of 3,500 mWs (impressive?). The rig also includes a built-in TiCK keyer. I've built it into a military surplus ammo box and there is enough room in the box for my paddles, battery, headphones, wire antenna, and logs. The main PCB is the 38 Special kit that was originally sold by the NORCAL QRP Club. I have added another PCB that includes circuitry for a red transmit indicator and a S-meter which is visible in the upper left hand corner of the box. I've worked many countries with this rig using nothing more than an inverted-vee dipole up 20 feet or an end fed half wave antenna when used in the field. In the above photo one my original end fed half wave antenna couplers is sitting on top with the antenna strung through a tree. I admit that you wouldn't want to take this rig backpacking but you certainly can't hurt it. It's even waterproof once the lid is latched!
I actually use this rig a whole lot from the house simply because is has a very sensitive receiver and has quick, full break-in (QSK) CW, a feature that I really desire. I have an old pair of 2k Ohm Telex headsets that have a peak response that is the same as the receiver's response and the combination works very well together. It is a pleasure to operate.
This rig does have some deficiencies but I have used them to my advantage. One of the deficiencies is that the stock receiver has poor opposite sideband rejection. In fact, it my as well be a direct conversion receiver. I managed to work the Kingman DXpedition on the first call with this rig by listening to his signal on the wrong sideband. Since I do not have RIT, this put my carrier up a couple of kHz from his. Of course he was listening up and this put me right where I needed to be.
The other main "deficiency" is that there is little IF selectivity. Just about all of the selectivity is due to the audio filter, which is very sharp. This may sound bad but the net effect is that I can hear other nearby signals on the band (a nice window) but when I tune to the one I want it is as if it gets sucked up out of the noise. It wasn't mentioned earlier but my rig has no volume control. The receiver gain is controlled only by the front-end variable attenuator. This actually works out great since it prevents the receiver from ever being overloaded. Anyway, this being the case, once I tune in a station and adjust the gain, the noise floor and background signals are very low.
This transceiver has been a fun little project (combination kit and surplus parts) and has gone with me on many camping trips.
---
Below are some more detailed photos of my rig out of its shell. I'm always tinkering with it so the layout is kind of messy.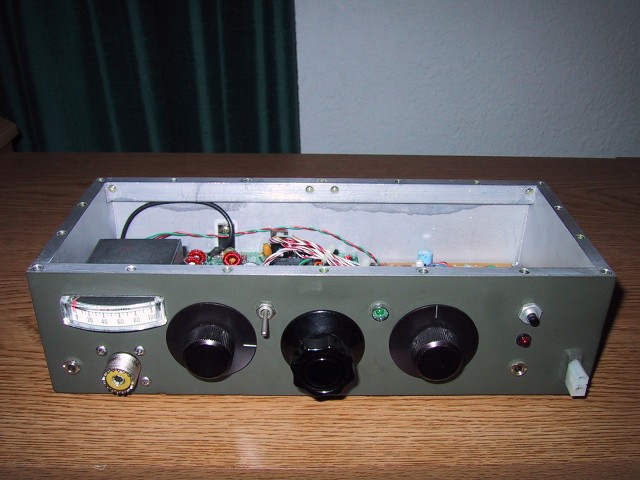 Front View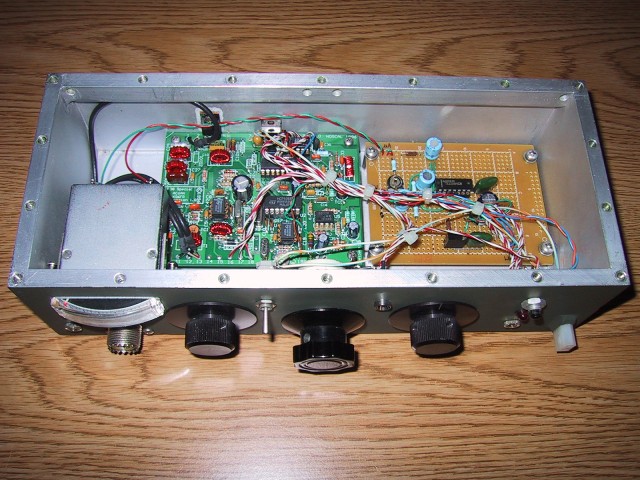 Top-Front View

Rear-Top View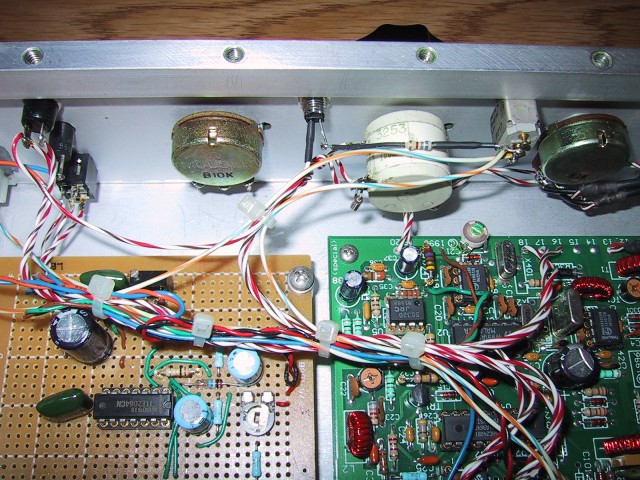 Middle Close-Up View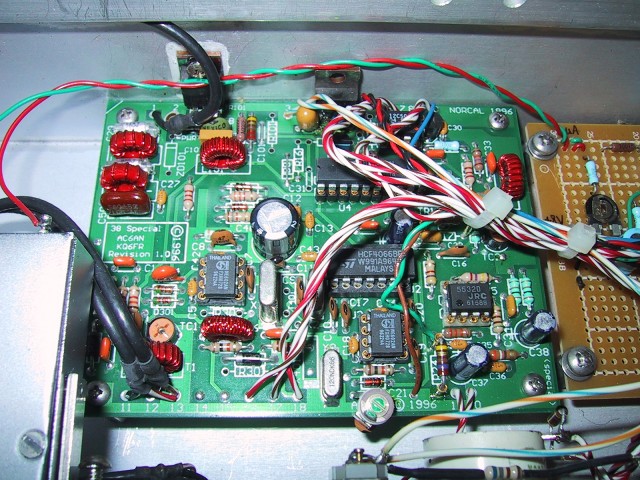 NORCAL Board Close-Up View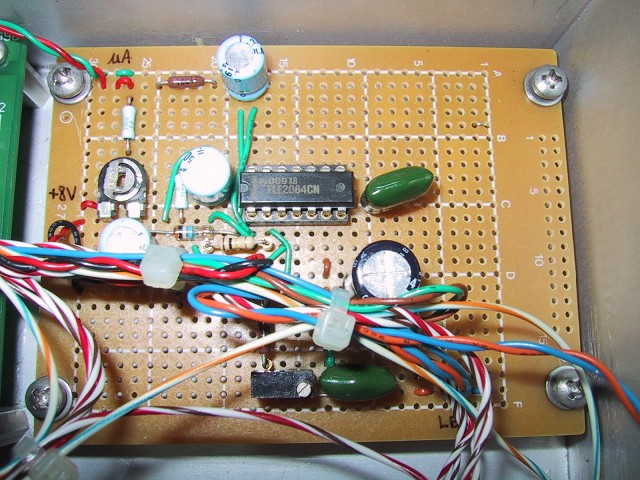 S-Meter/TX Light Board Close-Up View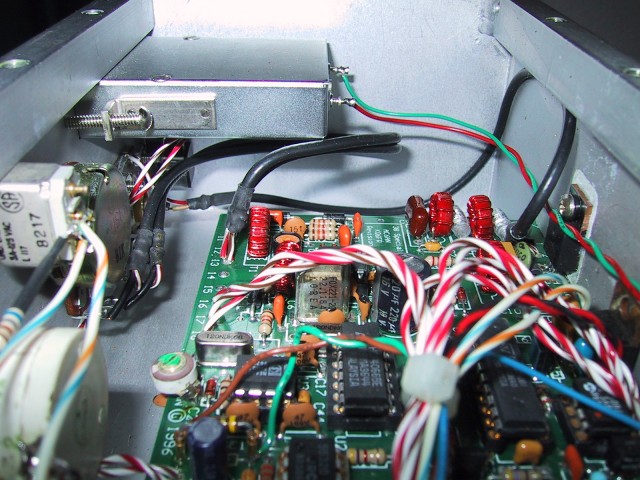 View from the Inside